Vietnamese attitudes towards technology and its potential are very positive
Expansion beyond big cities
Vietnam has been the fastest-growing middle class in Southeast Asia in recent years. However, the development is noticeable: the number of startups has increased — four times from 400 in 2012 to 1,800 in 2015, and nearly 3,000 in 2017. And it is also expanding geographically, with new provincial pockets of affluence beyond the important and traditional centers of Ho Chi Minh City and Hanoi Capital.
One bright example apart from Ho Chi Minh and Hanoi is Danang where there have been many startups and events in 2017. DNES is an Danang – based incubator that helps startups from the early to growth stage and has accelerated over 30 founders in 4 batches since 2016.
On June 2017, the Law on Technology Transfer was revised to promote technological advances and the commercialization of technologies such as AI, IoT, Edtech, O2O, E-commerce, FinTech, and AgriTech.
On March 6th, 2018, a VIP luncheon meeting themed Blockchain & E-Governance: A Gathering at Intersection of Investment, Innovation and Policy was held by the co-operation between Infinity Blockchain Labs and Vietnam Blockchain Club, aiming to provide an open discussion about blockchain among top educators, entrepreneurs and investors.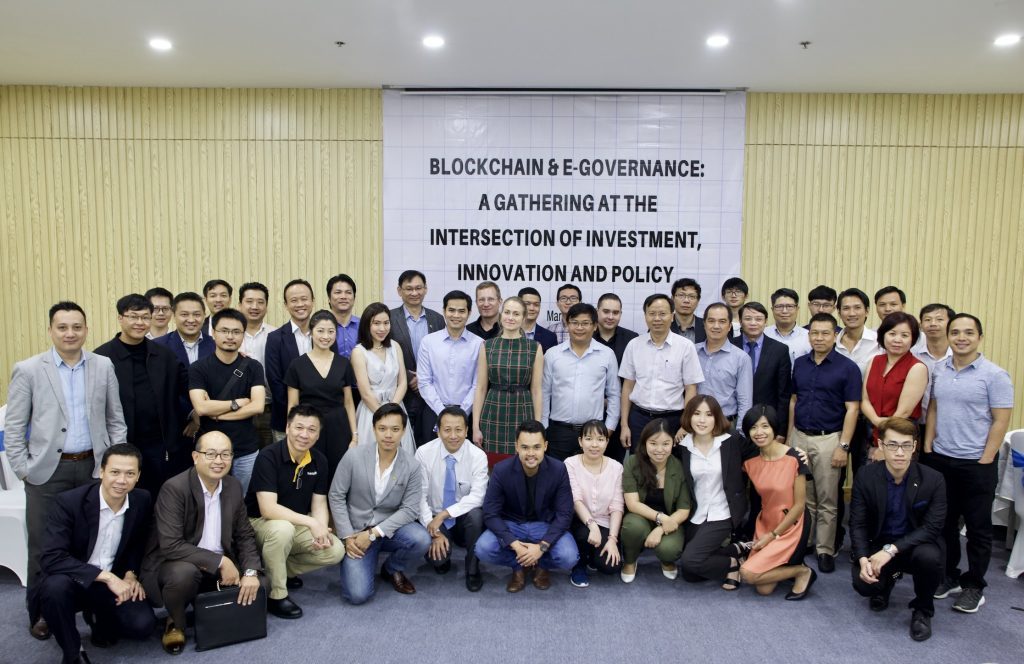 Mr. Dung Ta VIET (Tạ Việt Dũng), Chief of the State Agency of Technology Innovation, gave a short opening remark on the main theme of the event — Blockchain & E-Governance. He stated that for the past few years, the Vietnamese Government has been strongly supportive of the adoption and application of new technologies in the manufacturing industry as well as other socio-economic fields. Specifically, this could be proven by the fact that the Vietnamese Government has been preparing a legal framework. Moreover, on July 1, 2018, the revised Law on Technology Transfer comes into effect, and this will create easier access to new foreign technology for Vietnamese corporations, because there will be greater assistance from the government in importing these technologies including blockchain. The method used to approach blockchain technology varies from one nation to another and among different fields.
Global Attention
Moreover, Vietnamese startups have many big opportunities to meet with global partners from Korea, Japan, Taiwan, Hong Kong, Thailand, US, Israel, Finland, Singapore and other countries to exchange knowledge on AI, IoT, Edtech, O2O, E-commerce, FinTech, and AgriTech. These are all areas of considerable opportunities for many industries.
Shinhan Bank Vietnam (Shinhan Bank) — one of the leading banks of South Korea, has officially taken over the retail banking segment of the Australia and New Zealand Banking Group in Vietnam (ANZ Vietnam) to expand its payment services by utilising ANZ's resources. Moreover, we also invested in Fintech application, Shinhan Future's lab Vietnam to accelerate the startup in Vietnam and Korean.
Start Up Campus in Pangyo Techno Valley, Korea held the Asia Startup Network, a conference that provides a platform for connecting startup accelerators, startups, venture capitals, and young entrepreneurs to present and further discuss their findings on the startup ecosystems in Asia.
In its inaugural year 2017, the conference focused on sharing trends and successful cases in Korea, China, Malaysia, India, Singapore, Philippines, and Vietnam. They were planning to hold conference annually to build the Asia international network and synergies together. I was honored to be there and tie the partnership to set up Asia Startup Network.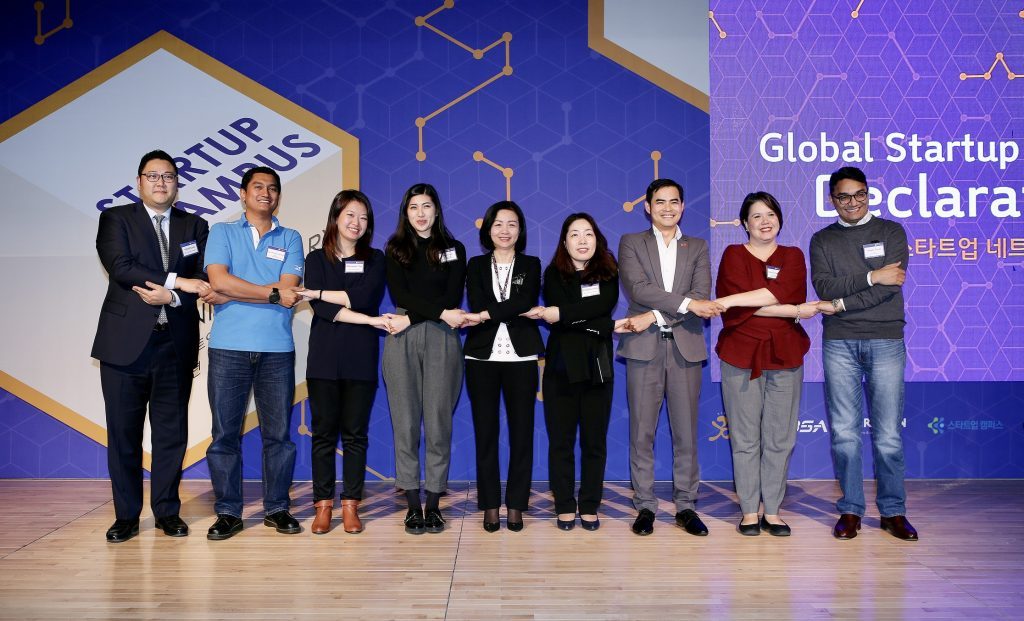 The Israel Embassy is actively partnering with many partners to bring Vietnamese startups to Israel to learn and grow as well as enabling Israeli startups to connect with and explore Vietnam market.
Lead the Change is a competition for young startup entrepreneurs from 18 to 25 to have a chance to challenge their ideas, learn skills, find right partner and get funded initiated by UEH Connected community.
Highlights of 2017
Many startup funds are established such as ESP Capital, Innovatube, VIISA and 500 Startups Vietnam.
SpeedUP 2017 is the fund which founded by Ho Chi Minh City Department of Science and Technology has 11.75 billion VND (520,525 USD) invested in 14 startups in Vietnam at a minimum of 350 million VND (15,505 USD) to a maximum of 1,282 billion VND (56,792 USD).
Tiki was founded in 2010 received 54.5 million USD (series C) from China's JD.com and Korea's STIC Investment.
The SEA Group (formerly Garena) from Singapore paid 64 million USD to acquire 82% Foody's stakes.
Vntrip, a Vietnamese online travel agency has raised 10 million USD (Series B) from Hendale Capital.
KyberNetwork was co-founded by a Vietnamese and launched its ICO on September, 2017 taking in 200,000 Ethereum, which was valued nearly 56 million USD at that time.
The launch of reality television show named Shark Tank Vietnam
Why do we need to pay attention to Vietnam market?
Vietnam has 96 million people, 67% of which are Internet users, 57% are active social media users and 73% are individual mobile phone users. The annual growth rate in Vietnam is breathtaking –the percentage of Internet users increases by 28% (or 14 million people) and 20% for active social users, according to a Kepios report. This indicates great opportunities for new product ranges focusing on this consumer segment.
The success of innovations, unfortunately, depends on the go-to market stage rather than the product itself. It is also important to pay attention to the longer-term consumer needs, and catering to these needs will present economic, social and cultural opportunities and challenges for Vietnam notably not only in basic commodities or real estate but also in healthcare, agriculture, pharmaceuticals and financial services.
Moreover, Vietnamese attitudes towards technology is very positive and with great potential, 61% of Vietnamese people believe that new technologies offer more opportunities than risks and 63% prefer to complete task digitally whenever possible.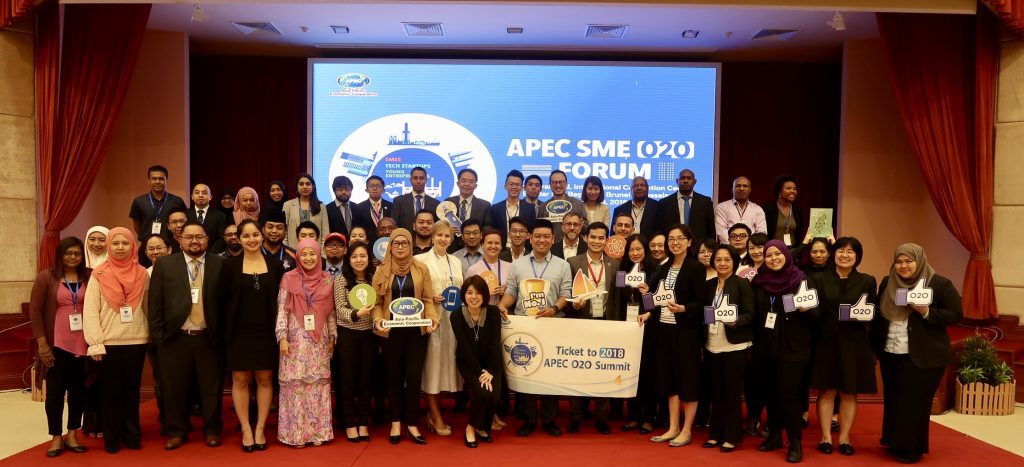 I was invited to be the speaker and judge at APEC SME O2O 2018 in Brunei and nominated one Vietnam startup tictag — One-tap-for-all NFC ecosystem to go with me to compete with 14 other startups in the APEC region. Finally, the Vietnamese startup went on to win the competition. Even more interestingly, one of my mentees edu2review.com in Vietnam received funding from an investor called Nest Tech from Singapore. This is also amazing and proved that Vietnam market is extremely potential and worth keeping an eye on.
Link to the source article: https://huynhcongthang.com/2018/05/22/keep-an-eye-out-for-the-vietnam-startup-ecosystem-and-its-potential-for-growth/