[A journey in Vietnam] What overcoming my fear teaches me
      In everyday life, overcoming fear is a challenge. It is important to do so, because living in fear is not good. If you do not take control of your fears, then you can't step into the world with all your potential. Fear entails negative thoughts, so you have to make effort to trust you, to be more self-confident and to dare doing things and more important, to think positive. To illustrate this, I give en example below  of my experience here. It may seem minor, but it shows me that with fear, we can't go forward in life.  
It has been now more than 75 days that I have arrived in Vietnam, and since then, I have learnt so many things and every single day spent here give me lessons, not only at work but also in my everyday life. Today I want to share with you what I learn about fear. I experienced  this with the circulation and my scooter (It may be a bit basic for Vietnamese people, but believe me, for me it was a real ordeal) .
Indeed, I have never driven any motorized vehicles. When I came here, I told myself: "I will never drive a motorbike, I am too scared, I prefer pay some Grabbikes, I can't drive, it's impossible for me". My first days in Ho Chi Minh confirmed my fears: I am definitely too scared and too crappy to drive anything. However, I quickly noticed that being like that prevented me to move freely, and to do what I wanted to do in Ho Chi Minh, and all my movings had a great cost and it was really restrictive to do basic things: going to the supermarket, meet friends, go to the gym… I decided to rent a motorbike. During 1 week, I just drove near the place I live to learn and to get use to my scooter. And the time to decide myself to go to work with my motorbike came. It really made me ill, I was very stressed. During the night, I barely closed the eyes and I kept saying to myself "you can't do it, it's too dangerous". In the morning, during the breakfast, I made my roomates upset because I told them "No, I'll take a grab, I can't do this because I am too tired" (It has been a month since I was continuously complaining about the money I was loosing using everyday taxis). Then, I went downstairs to the scooter park. But I was so scared that I went back home and one of my roommate just told me that with fear, I would never move forward in my life and that I should stop being afraid of everything. This morning, I took my scooter to go to work and everything was fine. I was really calm and concentrated, and the fear disappeared really fast.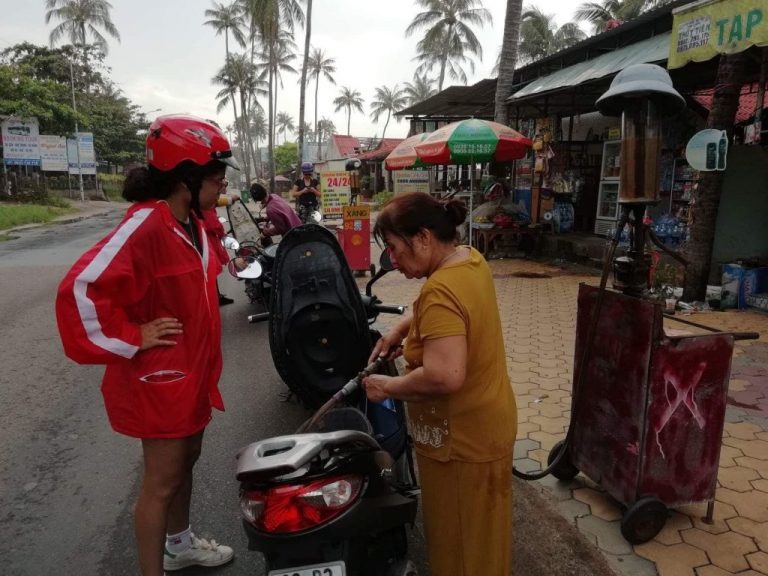 I realized a few days later that I have prevented myself of being free to move,I did not allow myself to trust my abilities and my potential. All the apprehension before being on the motorcycle was useless. Why can't I just enjoy the night, the breakfast. Of course, fear can be there on the road, because accidents are possible. But why do we have always to be scared and to ruin an entire day because of it ? Everything before being on the scooter, there is no reason to be scared.
My internship here gives me everyday challenges, and I have to overcome my apprehension daily. Even in France, many things stress me and make me quite nervous, but there is no reason to ruin a day because of the fear. Here, the new environment allows me to improve this trait and to learn to control it and to go ahead without being afraid.