Over 120 young people has attended to the seminar held by Lead The Change Community to learn about negotiation and creativity skills from Swiss Consul General and British Consul General in HCM City.
By 2020, the Fourth Industrial Revolution will bring us advanced robotics and autonomous transport, artificial intelligence and machine learning, advanced materials, biotechnology and genomics. Because of lack of 42% of skills to work in integrate global until 2020, all employees have to be re-trained.
Understanding the issue, a brand new series is organized by Lead The Change Community to provide the youth one of the best preparations to have a better career in the near future with 21st skills.
This seminar (belongs to seminar of the series "Key Competencies for Industry 4.0") led by Mr. Martin Maier – Swiss Consul General in HCM City and Mr. Ian Gibbons – British Consul General in HCM City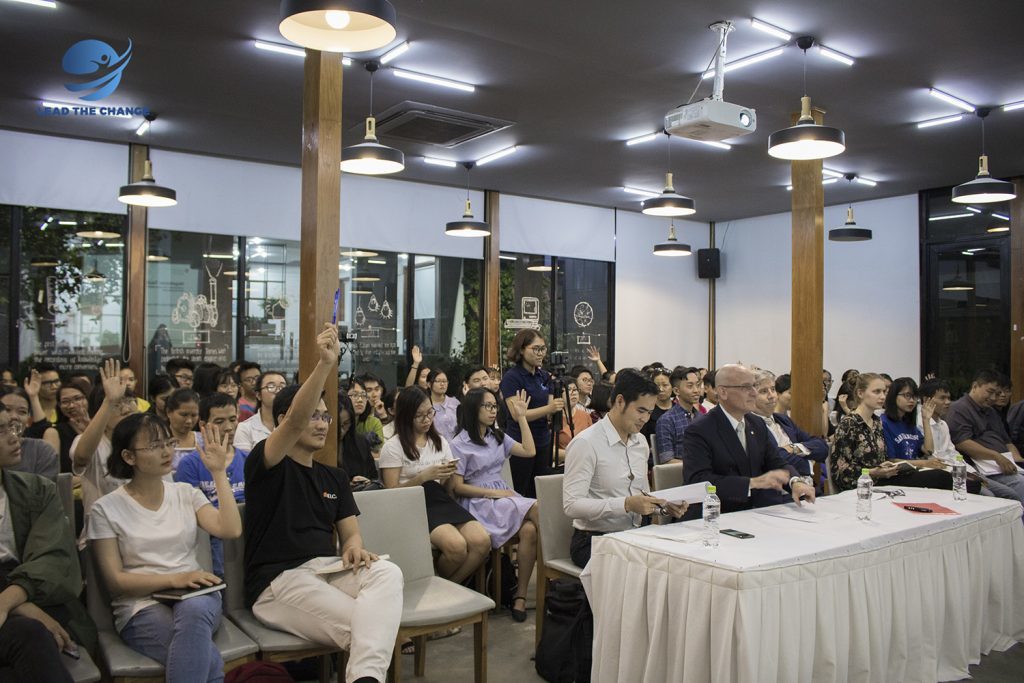 Negotiation happens in daily situations
Mr. Martin Maier, Swiss Consul General in HCM City since September 2018. He started the presentation with a question: Who has negotiation skills? Then, he claimed that negotiation in life and business was manipulated in different ways which had four different levels . They are: Impulsive/ Egocentric, Unilateral/ Subjective, Self-reflecting/ Reciprocal, and Mutual/ Collaborative. He also emphasized that the ideal level of negotiation was not only figuring out solutions but also strengthening long-term benefit relationships.

Mr. Martin Maier, Swiss Consul General in HCM City

Taking negotiation between the US and Mexico about NAFTA as an example. He said there was no win-win result in negotiation if one side was not strong enough and when the other side did everything to be successful. His advised acknowledging working style and culture was a crucial element to understand reactions' causes in specific situation and find appropriate resolutions balancing benefits between parties.
In addition, he presented to participants "The Harvard Concept" powering people to know and choose the best alternative plan B.

Creativity plays an important role for 21st century
Compared Vietnam to countries within the region which were well-known or high-profile, Mr. Ian Gibbons – British Consul General commented: "It's (Vietnam) actually saying this is who we are, this is what we stand for and this is what we can deliver. And it is not just about the historical perspective of Vietnam, it's about Vietnam of 21st century."

Mr. Ian Gibbons – British Consul General in HCM City

About methods to develop creative thinking skills, as a British Consul General, he shared his perspectives about Brexit. Brexit was said that it should be seen as a problem or one side against each other. However, England should show the impact and prove their role in negotiation which helped to create the expected results soon.

Besides, he emphasized on benefits of creativity in our life. It creates challenges to push us out of our comfort zone,… as well as in success of business. It is said that fintech, bitcoin and financial methods have no relevance to creativity. But they challenge us to innovate everyday. Thus, embracing creativity is one of the best ways to help business to become successful in competitive environments.
His two advice were "We do not know who we are in next 5 years so do not keep us in one version". And "Creativity should be in combination with other skills to achieve the best outcome".


Application of negotiation and creativity in daily life
Following the Consul General's sharing, Mr. Thang Huynh, Founder of Lead The Change Community, joined Mr. Martin and Mr. Ian for a panel discussion.
They talked about how to negotiate with the person who had no good impression on you for the first time. And how Vietnamese parents created an open environment for their children to be more creative and be ready to negotiate in any situations happening in their life.
Mr. Thang invited some participants to raise their questions to Mr. Martin and Mr. Ian. Some interesting questions were: How to attract interviewers by creativity and deal with interviewers for desired salary. And how to make friends and talk to strangers who are experts and businessman in a meeting while we are young.

After the seminar ended, two Consuls General stayed longer to have conversations with participants related to creativity and negotiation which made the atmosphere cozy.

Lead The Change Community holds these programs monthly with the purpose of creating the global community for the youth and startups. These programs will empower young people to step into the world with essential entrepreneurship training, mentorship and networks.

Thank you Mr. Martin Marier and Mr. Ian Gibbons for taking time out of your busy schedule to participate Seminar: Negotiation and Creativity as inspiring speakers.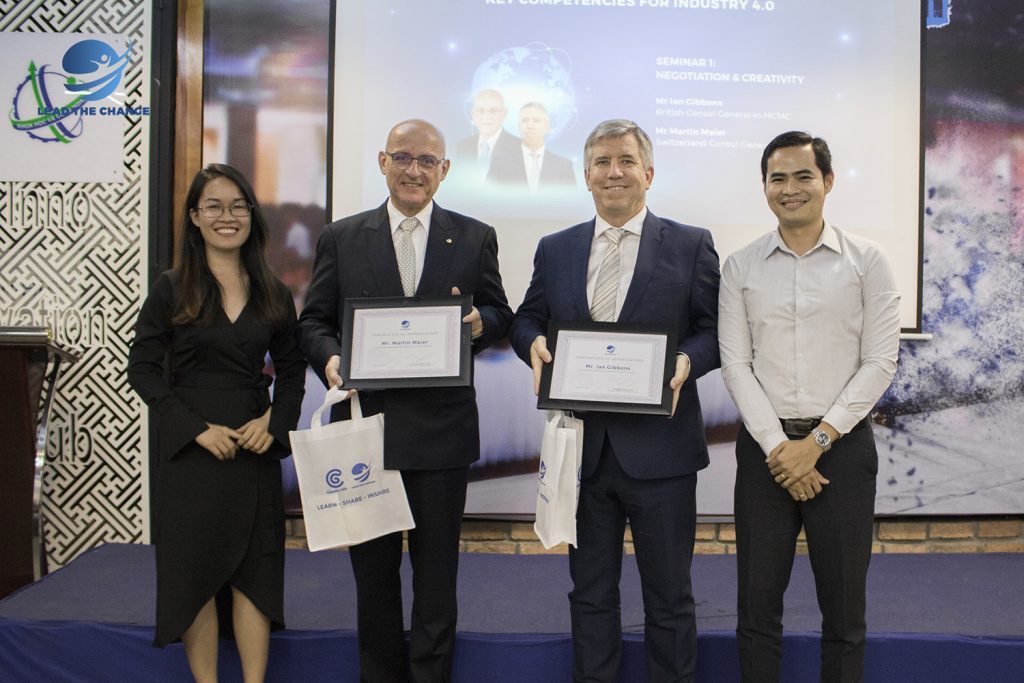 Group photos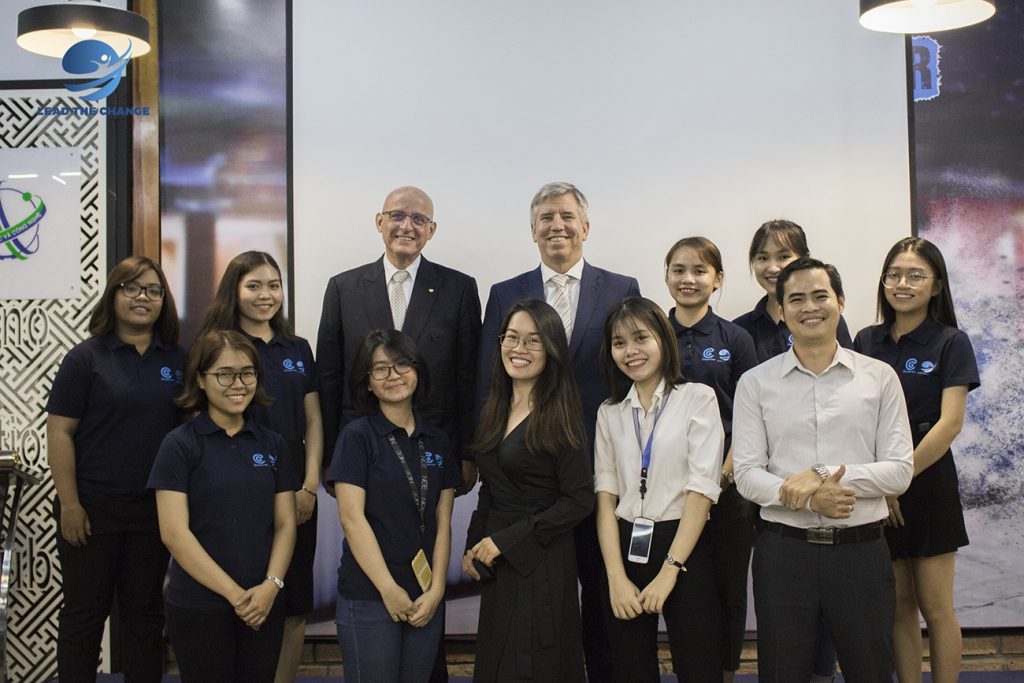 Lead The Change Community would like to express our appreciation to Saigon Innovation Hub for being our venue' s sponsor.

Lead The Change Community and upcoming interesting programs and seminar which are: