Over 300 young people have attended to the seminar "How to Work Like an American" held by collaboration between U.S. Consulate General – Ho Chi Minh City and Lead The Change Community on Thursday, May 23rd, 2019. Cross-Culture skill – an important role in international working environment.
The world is more innovative now than ever.  If we don't learn how to adapt to different cultures, we'll lose out on the amazing opportunities of the Industrial Revolution 4.0. Topic of this seminar: "How to Work Like an American" which helps you to learn how to interact with others, build bridges to trust, respect, and understanding across cultures.
Cross-Culture skill – an important role in international working environment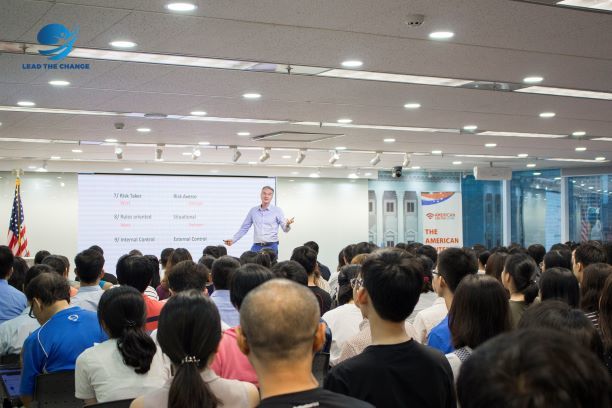 Mr. Christian – Coach in Cross Cultural, Soft Skills, Happiness emphasized that a global manager of 21st century was the one could work successfully in Cross-Culture which meant they were ready to adapt and work in different cultural environment.
Besides, he also took Manager position in Vietnamese workplace in a comparison. If you are a manager in Vietnamese company, all skills you need would be Intellectual Culture, Education experience, Logical thinking, Emotional intelligent, Psychological culture, Making Relationship, etc. Meanwhile, a manager in International company should have adequate skills like Vietnamese manger as well as Cross-Culture and Cultural Intelligent skills.
Furthermore, he confirmed that new skills related to different culture was very difficult to learn which required daily efforts in a long time and turned it become our strength.
Next part, Christian shared about differences between Western and Vietnamese working style. There are negative and positive features which create a gap in working successfully between West and Vietnamese. Therefore, if Vietnamese employees wanted to shorten the gap, they would improve their working style like be punctual, be ready to take risk, rule-oriented, and simple thinking, etc.
How an American work effectively?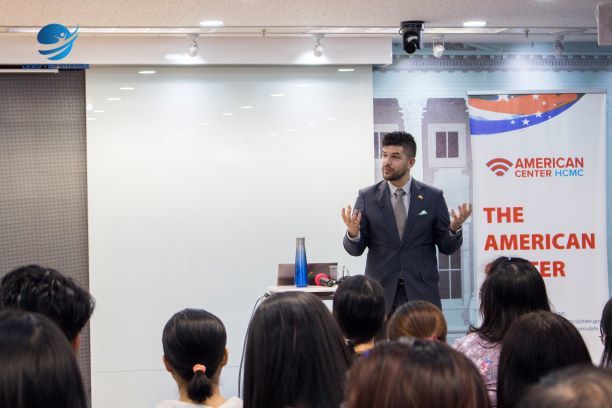 Mr. David Turnbull – U.S. Consulate Deputy Public Affairs Officer shared about working style of an American which helps people manages tasks effectively.
First of all, being on time was the most vital feature in working as he emphasized on respect in workplace. If someone is ready to spend their time for us, we can not keep them waiting because of our personal reasons.
Next, he encouraged employees to feel free to share ideas which helps us to belong to the company. Besides, respecting colleagues' ideas is an effective way to create innovative ideas in company.
Last but not least, in American workplace everyone is equal regardless gender, title, position, age. This is the reason why employees feel free to communicate to your boss about their ideas or get feedback to their managers which creates a non-hierarchical environment in work.
Women in real workplace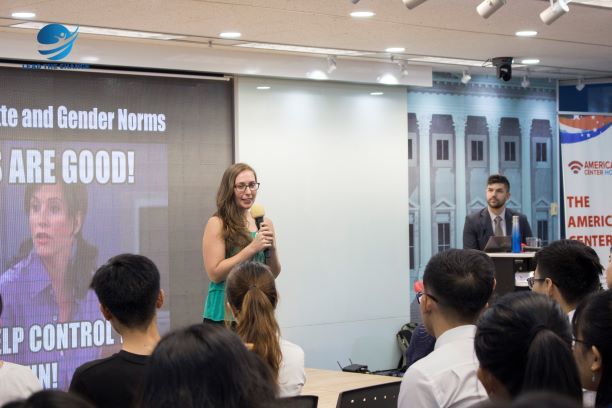 Ms. Sara Feuerstein – U.S. Consulate Consular Officer shared that American women try their best to stand up for themselves regardless of earning less money than men in workplace.
Furthermore, she encourage young women to speak up their ideas and opinions and do not be scared of wrong or irrelevant opinions. Besides, women need to acknowledge efforts of other women in workplace.
In addition, men are the force who are always ready to support and acknowledge women' ideas whenever they share it. This is a good way to show men' respect to women who make effort everyday like learning new skills, improve their knowledge to be respected in workplace.
How to work better?
Following the workshop, Mr. Thang Huynh – Founder of Lead The Change Community, joined with Mr. David Turnbull; Ms. Sarah Feueresteina and Mr. Christian Routin for a panel discussion.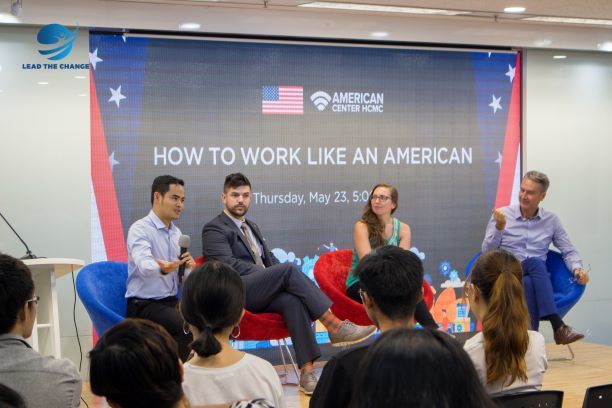 Starting the panel discussion, first question from Mr. Thang Huynh for our speakers: "How does culture influence communication in the workplace like an American?"
Ms. Sarah agrees that culture really has a great impact on communication. Cross- Culture miscommunication is easy to cause conflicts. So, understanding about cultural differences is a crucial skill for communication in the workplace.

After that, Mr. Thang had a question "When you had a conflict, how could you overcome on the daily communication?"
Mr. David advised "Vietnamese culture, you really shy to say "I'm sorry" because be afraid of losing your face. But if you make a mistake in a conflict, you just say sorry. It's best to resolve conflict immediately.
Mr. Christian share a simple tips must be do to improve our cross cultural communication skills is get feedback. Let the employees know you want to be sensitive to their cultural group while guiding them in their job duties. You're more likely to learn what you're doing right, what you're doing wrong, and what to avoid saying altogether. It creates a work environment with less unspoken resentment when you take the time to learn from your employees.
Mr. Christian and Ms. Sarah also suggested to the audiences to enhance cross-cultural communication and world citizenship are The Culture Map and Knowing About Yourself.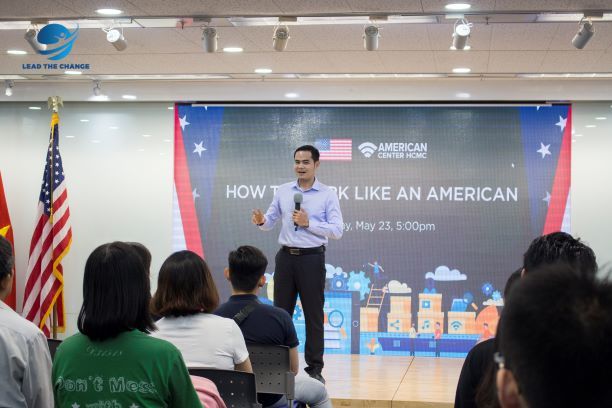 The last advices from Mr. Thang Huynh was:
"If you want to work or do something better, you should learn how to learn new things and self-learn"


Mr. Thang Huynh – Founder of Lead The Change Community