Workshop "Lessons from Vietnam's Remarkable Women Leaders", led by Mrs. Irene Ohler, took place on September 18th, 2018. The event welcomed participants from many walks of life, of whom majority are women. Through this workshop, Mrs. Irene spoke on the lessons that she learned from 20 remarkable Vietnamese Women Leaders with the purpose of inspiring modern women.
START
After introducing herself, Irene asked the audience to draw the picture of the perfect leader. Everyone close their eyes. Then she asked who could see a women. Just one person raised his hand. Not so surprising you may think. She took this exercise for the NYT in which the representation of the perfect leader was drawn.
Most of people think that the perfect leader is a man wearing suit, giving orders,  and who has build his leadership on a balance of fear and respect and some love.This image has to change. Indeed, Irene gave the example of New-Zealand. The 4 top major positions are often hold by women. This idea of leadership is wrong, because leadership is not about giving orders, being a man and wearing a suit. It is much more complicated than this. When it comes to Vietnam the country is not so bad as it is ranked 6th among countries with highest women business ownership. It seems that Vietnamese women crack the corporate glass ceiling.
Irene raised then the nowadays key challenges for women, which are:
Perception around women's role in the family: lots of pressure, be gorgeous all the time , be a good wife, daughter in law, mother,…

Pressure from work-life imbalance

Lack of empowerment

Lack of promotion opportunities

Lack of mentors and advisors
While writing her book about Vietnamese Women leaders, Irene discovered how precious and interesting those women are. She shared with the audience 5 lessons she learnt interviewing vietnamese women leaders.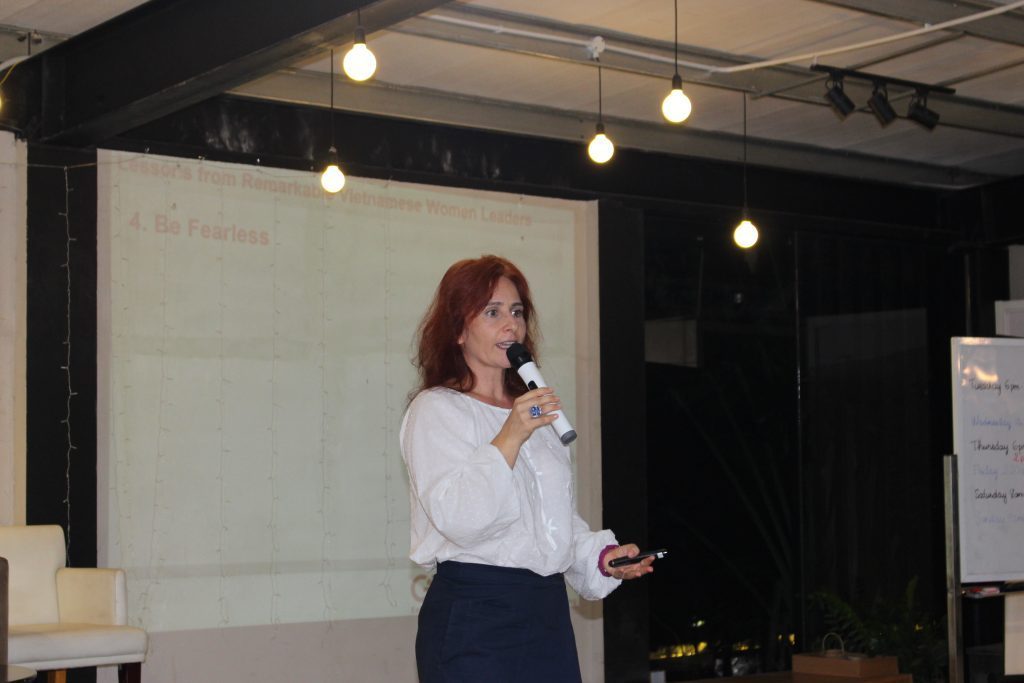 Lesson 1: Listen to your inner voice, follow your beliefs and values. Let your internal guiding star guide you.
On the cover of her book, you can see the face of 21 women portrayed, some are famous and some are not and those women are aged from 27 to 72 years old. According to Irene, it shows that leadership does not come with position. Leadership does not mean to be a CEO. There are many ways to be a leader.  Indeed, Irene noticed first after interviewing the women that there is one thing they shared : listening to their inner voice that told them what and how to do things. This is what leadership is about: following your beliefs and values et let your inner voice guide you on your decision.
Lesson 2: Harness the Power of Contribution.
The power of contribution is often neglected. A good leader aims first at contributing to society, family, company and itself. It is a very important point. Nguyen Thi Mai Thanh gives Irene this idea as what drives her is to contribute. One good advice they teach us is to live one's aspiration and to have dreams, not only for themselves, but for the company, the family, the community . Never forget to contribute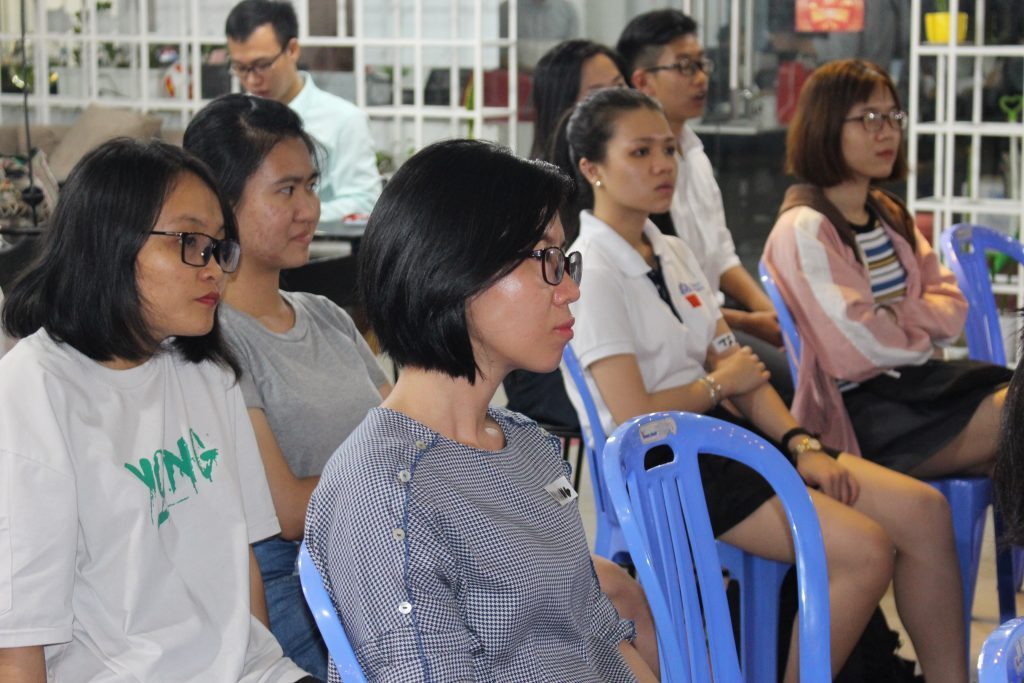 Lesson 3: Build resilience, contribution and aspiration.
Life is not always easy, you need to find a balance, a resilience capacity so as to overcome all the obstacles and one thing that help is having values and dreams.
Irene gave the example of Pham Chi Lan, economist, independent advisor. She is a great symbol of resilience (she overcome french colonization and the war). She did not have the same opportunity as today young people. but she became an influential woman.What made her a strong woman and a leader is her resilience capacity.
Lesson 4: Be fearless
To illustrate this point, Irene told use the story of Le Hoang Uyen Vy, General Partner ESP Capital, Former acting CEO VINecom and explained us how fearless Vy is and how does this help her in life.
One day, Vy was introduced to Chairman of Vingroup and she told him that she had been doing ecommerce for years and that she can understand the market very well. Then, she advised him that he should enter the market and become number one in some vertical.. Fashion.After that, the assistant of the chairman invited her to the advisory team and after 4 months, she was promoted Acting CEO of the e-commerce initiative.
Being afraid won't help you, it will close many doors. Th example of Vy given by Irene is relevant. To be a leader, you need to control your fear and go ahead in life.
Lesson 5: You don't have to be the perfect woman
Pham Kieu Oanh, a successful CEO told Irene that being yourself and being a good leader at the same time is very liberating. Women don't have to be a perfect wife, mother, daughter-in-law, sister…. Just be yourself. It will free you and open your own barriers.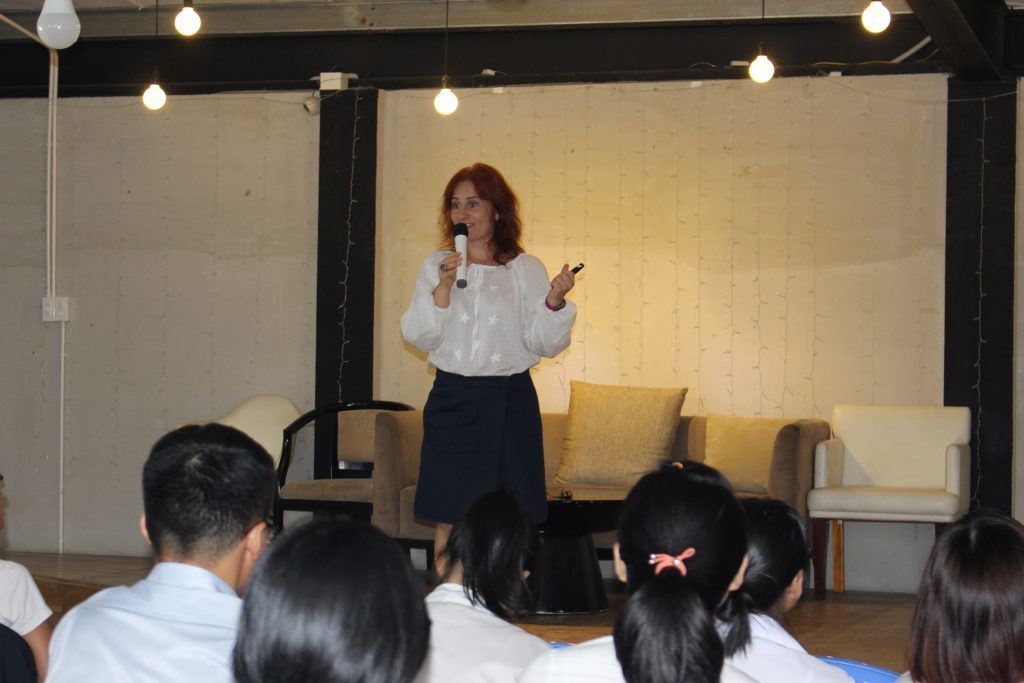 QUESTIONS & ANSWERS
Question 1
Why Women's Storytelling Salon is just for women ?
Irene replied: "Because, it is easier for women to share when just there are other women. I want to create a place where women can be themselves, it is the only way to inspire them. Indeed, women are more comfortable and feel more opened when they are just women in the room. they are more prone to be listened and understood. They feel then more involved.We need events where women have an environment that make them safe and comfortable. We need that space because we do not have otherwise. But, we cannot change the system without men. They have to be involved too."
Question 2
Of the 5 lessons, which impresses you the most ?
"The first one I think. As a coach, I will call the inner voice your values. Interesting things is it is hard to follow it, because there are many voices that tell us what to do, how to behave etc. It is always very hard to cut through that. The inner voice help you with resilience."