Lead The Change 2018 Competition started on 20 September 2018 and had a total of 989 start-up ideas from over 40 universities and organizations.
After going through a thorough and strict selection process, the top five teams battled it out in the fifth and final round of the competition at the University of Economics Ho Chi Minh City on the 13th of December 2018.
To begin the final round, an opening speech was given by Mr. Cong-Thang HUYNH – Founder of UEH Connected and the head of the organization committee for Lead the Change 2018.
"The mission of UEH Connected Community, which is to empower the youth in Vietnam and connect with people internationally as well. The organization equips the youth with soft skills through mentoring, training and networking, and their biggest goal is to inspire youths to lead the change in the economy."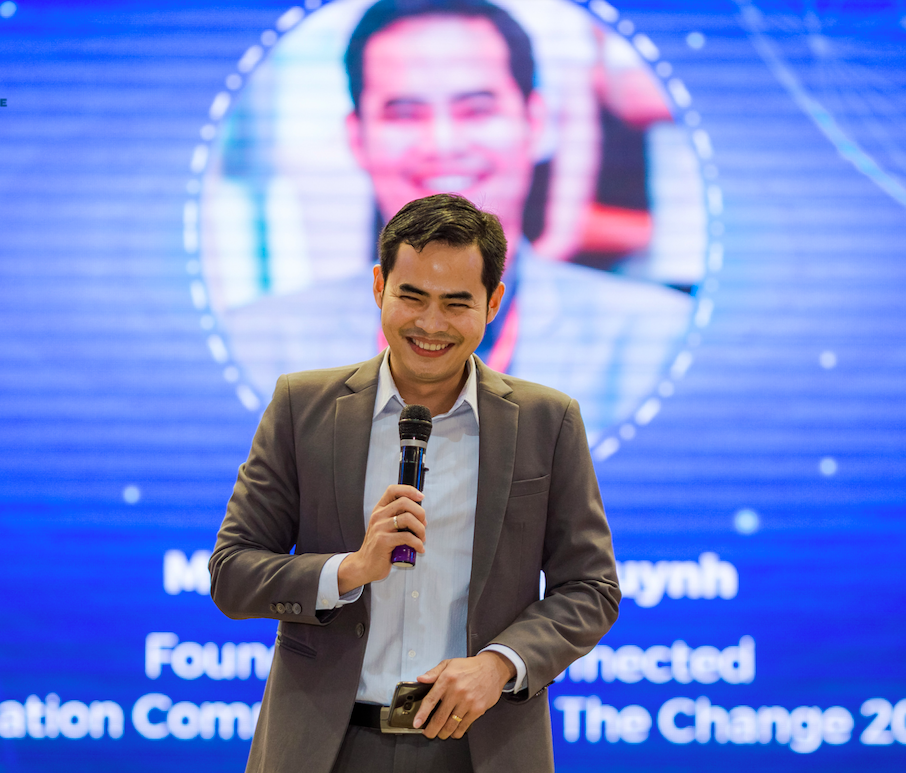 Lead the Change 2018 competition is also a good tool for us to nurture talents with good ideas and potential; and equip them with training, mentorships, networks to open their mindset so that they can lead the change to drive Vietnamese economy.
After opening speech, a keynote speech on "Deal with change: How to transform yourself in the VUCA world" was given by Ms. Mary Tarnowka – Consul General of US Consulate General in Ho Chi Minh City.
Ms. Tarnowka shared several tips on how one can transform themselves in the VUCA world.
"Knowing how to lead the change is very important because we have to keep up with the future. You can't control the world change, but you can control how you can change.Embrace change and let it change you," were some of the important points that Ms. Tarnowka shared.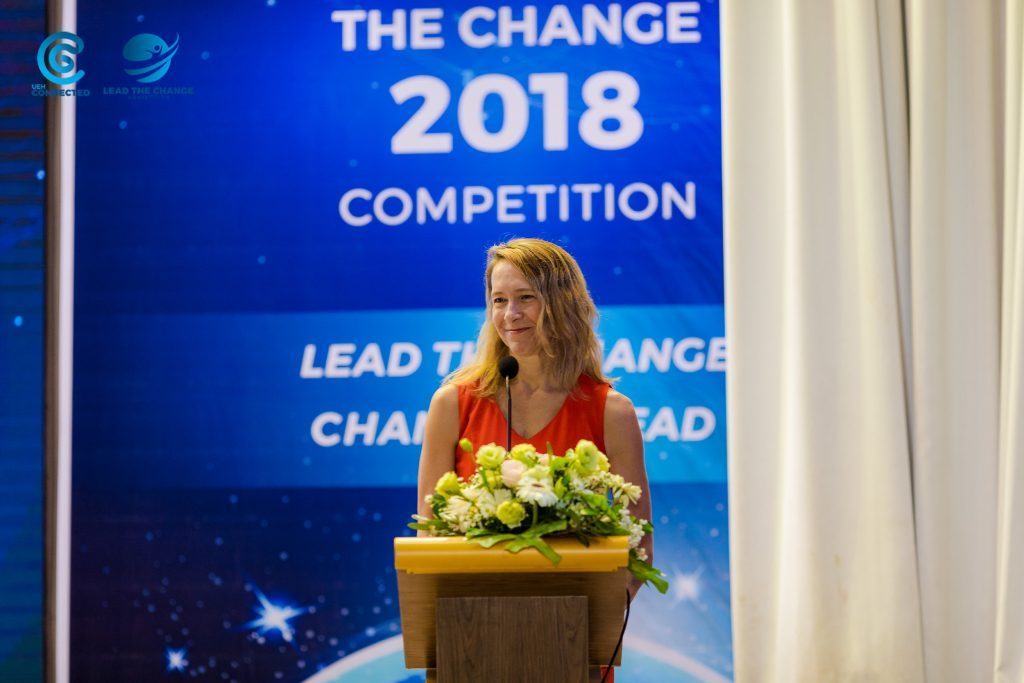 Some example to let attendees know more about change:
"Change can remove obstacles to success. Take, for example, the Internet. Twenty years ago, it was difficult to collaborate with people far away. Now, we don't even think about the distance. It's as easy to send an instant message to someone in Africa, or America, or Europe, as it is to send a message to someone sitting right next to you. In the digital world, distance doesn't exist. It has no meaning."
Her final tips were to embrace change, commit to lifelong learning, pursue your dreams and learn from your successes and failures.
The speech ended off by the second speaker, Ms. Dorothy – President of ARCON (A program managing organization of Start Up Campus in South Korea) shared that "great entrepreneurs don't only do business, they create change".
A panel discussion called " HOW STARTUPS CAN LEAD THE CHANGE" with special panelists:
Mr. Kyle Nunas – Consul General of Canada

Ms. Nguyen Phi Van – CEO of  Retail & Franchise Asia

Mr. Eddie Thai – Partner of 500 Startups

Mr. Tran Tuan Anh – Founder & CEO of Ticket box

Mr. Gaku Echizenya  – Chairman & CEO of Navigos Group Vietnam JSC

Mr. Rick Yvanovich – Founder & CEO of TRG International
The first question was "What motivated the panelists to be entrepreneurs?"
And the second question, "When do you know your product is innovative and worth pursuing?".
Some advice from panelists to the youth and future entrepreneurs
Mr. Rick Yvanovich shared:
"To be successful as an entrepreneur, one should learn quickly, never stop changing, and overcome failures fast and resiliently."
Many of these panelists did not start out as entrepreneurs. In fact, they used to work in different companies, before realizing that they wanted to venture into entrepreneurship. On entrepreneurship in Vietnam, the panelists advised those who are keen on the entrepreneurial journey to venture out and observe what others are doing, as well as to keep an open heart and mind to learn from others.
Mr. Tran Tuan Anh shared:
As a young person, you should go out and try many stuffs. You do not  have to stick to the goal of being an entrepreneur no matter what. Maybe you are good at something else. Just go out and try to see what sticks to you.
With the question: As a startup, how do you know your idea is innovative and worth pursuing?  
Mr. Gaku Echizenya shared:
First, you need to find the problem and think about solving it. Next, you need to find the solution through technology but as human. Last but not least, forecasting is important when competing with big corporations or existing business.
Ms. Nguyen Phi Van shared:
I'd look at what opportunities are up there in the world, and then I look at the strengths and access that we have in Vietnam because in Vietnam, unfortunately, we do not have a very strong educational system. If we do not have the skill sets necessary, we may have to borrow.
You need to open your mind to learn and to collaborate with people all over the world to be able to succeed. From your own backyard, think about the access that you have and borrow the strengths of the world to go global.
The panel discussion ended with a question from an audience member who asked if Vietnam could be the next Silicon Valley.
Mr. Eddie Thai shared his opinion that
"No one should be a Silicon Valley.Instead, Vietnam should aim to be unique and be strong in its niche, for example, agriculture."
Through the panel discussion, the audience gained more knowledge regarding the entrepreneurship experience and understood the various aspects and challenges better.
After the end of the panel discussion, the most anticipated part of the event had finally begun – the pitching
The first prize belonged to E-BOT TEAM with Chatbot eCommerce idea.
E-Bot team with Chatbot eCommerce idea provides various types of promotion from popular e-commerce websites to let customers buy products in the shortest amount of time with the lowest price.
Problems to solve:
– Promotion search is not easy for customers
– The conversion rate of E-commerce business is low (2.46%)
Solutions:
– Create a quick promotion search tool for users
– Play a role as a marketing channel
PRIZE:
4-month mentoring
2-week training course in Startup Campus Korea
1000 USD
The second prize belonged to 4 talent girls with PROBOOK idea 
ProBook is an old books trading platform whose target customers are university and college students.
Solutions:
– Raising students' awareness of using copyright books
– Saving time on looking for copyright books in the study
– Connect students who demand and supply copyright books.
PRIZE:
3-month mentoring
2-week training course in Startup Campus Korea
500 USD
The third prize belonged to 3 teams: VICHANA SEUNGORIA TEAM, G3HEN TEAM and ECO TEAM
Vichna Seungoria team with BikeMech idea which is a mobile app platform and connects people whose have broken down vehicles on road with nearest indie repairmen.
Problems to solve:
– Many people need help when their vehicles are broken on the road.
– Idle repairmen who waste their spare time when there are no customers.
G3HEN' team idea is a service that helps turn your old pair of sneakers into the one you love most based on your creativity. Apart from making your sneakers look impressive, G3hen improves their versatility in terms of waterproofing, ventilation, and protection.
G3hen aims to meet the high demand for investment in outfits of sneakers lovers nowadays.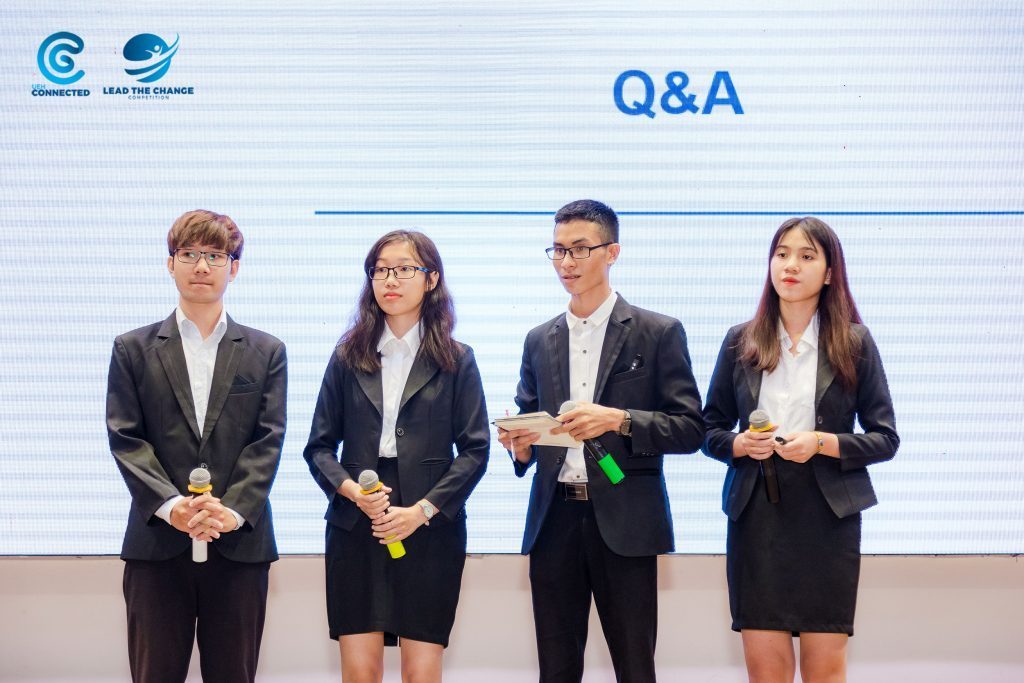 ECO team

 

with the idea of replacing the top of office chairs with Headrest R+.
This solves 2 major issues that office workers face:
– Discomfort when resting or taking a nap at the office
– Back and neck pain after a long working period
PRIZE:
2-month mentoring
2-week training course in Startup Campus Korea
Sharing of contestants of top 20 Lead The Change 2018 Competition.
Trinh Dinh Hong Duong – Member of E-BOT team.
"After this competition, I realize that I learned many wonderful things. First, I am so proud of my team. They have their own strengths that I can learn from. In addition, we have significant growth in many perspectives, especially soft skills such as teamwork. I want to send a big thank you to Lead The Change 2018 Competition."
Ngo Thanh Duy – Member of E-BOT team
"The most impressive thing we want to share is about the change in our skills and vision. Regarding skills, we have improved communication skills and strategic thinking. We also change our own thinking about startups that we have to think big to reach out to the world."
We would like to express our sincere gratitude to the trainers, judges, mentors, co-organizers, sponsors, in-kind sponsors, partners and supporters for your wonderful contributions to Lead The Change 2018 Competition.
The end of Lead The Change 2018 Competition is the beginning of a dynamic Lead The Change 2019 Competition.